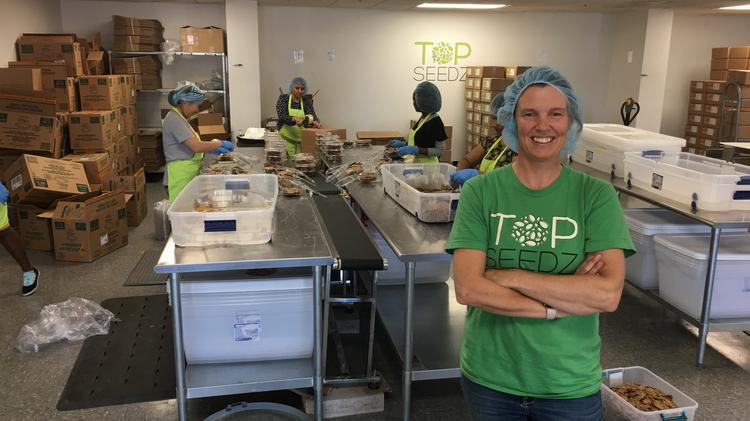 DM FOTOGRAPHY
By Dan Miner
 – Reporter, Buffalo Business First
Jun 17, 2019, 7:11pm EDT
Rebecca Brady has created a portfolio of cracker products. Her mission aligns with modern health paradigms – a simple, nutrient-rich cracker made from seeds that is both gluten-free and vegan. And she has attracted customers and large retailers such as Wegmans and Whole Foods.
But the real root of the 45-year-old's success is simple. She spends every free second getting in front of customers.
"Since the moment we had a cracker to sell, I've been demo, demo, demo to this very day," Brady said. "Any spare time I have, I go to a store to meet new customers and ask them to try my cracker."
Top Seedz was founded in 2016 and got its first accounts with major retailers the next year. Her crackers are now in all of the Whole Foods in the Northeast and all of the Wegmans in Buffalo, and they're expanding into all of the Wegmans in Rochester. Brady now employs eight people at her assembly operation on Cayuga Road in Cheektowaga, all of whom were referred through Journey's End Refugee Services.
Top Seedz began in a shared commissary in Buffalo, but she moved into the new space last year after winning $50,000 in the Ignite Buffalo initiative, which funded the purchase of pricey equipment such as a commercial oven.
Brady now has a mixture of short- and long-term plans. She plans to keep getting into new stores and meeting new customers, an organic growth strategy that has her considering a second shift. But she is also working with manufacturers to develop a machine that can automate the tricky process of making crackers out seeds. If something is invented, it will likely be very expensive and require new commercial space, but also give Top Seedz the power to significantly expand its production.
Simply put, she thinks this company could get much bigger by the time it's all said and done. Some overseas markets already seem ripe for expansion.
"I'm from New Zealand, and my mom is still there," Brady said. "She's told the whole country about Top Seedz, so the marketing is already
Leave a comment